Paradox of Choice: what I learned at NCTC'S WEC 2019
Published on 06/03/2019
Category: Innovation
This was my first Winter Educational Conference (WEC) organized by NCTC. Cable industry being one of the segments, Espial's Elevate serves, I was looking forward to it. In a lot of ways, it was enlivening. Clearly, the changes in the industry with regards to 5G, broadband margins, cord-shavers, had the gathering on the edge. But the serious conversations centered around what lay after the crisis. This year's theme was "Optimize your playbook", a concept hatched to explain the coming age of technologies, intelligence, and platforms that will connect us in a way none of the previous technologies have. The theme also emphasized on what can be done to maximize profits, slow the decline or even look at one's business from a different lens.
In this new era of smart machines, data ubiquity, and digital transformation how can the operators stay abreast and make the most of what they have. The challenges are unnerving, but I came out encouraged and with more clarity on how the transformative technologies can be leveraged and a new way of thinking can change the way video is delivered and distributed.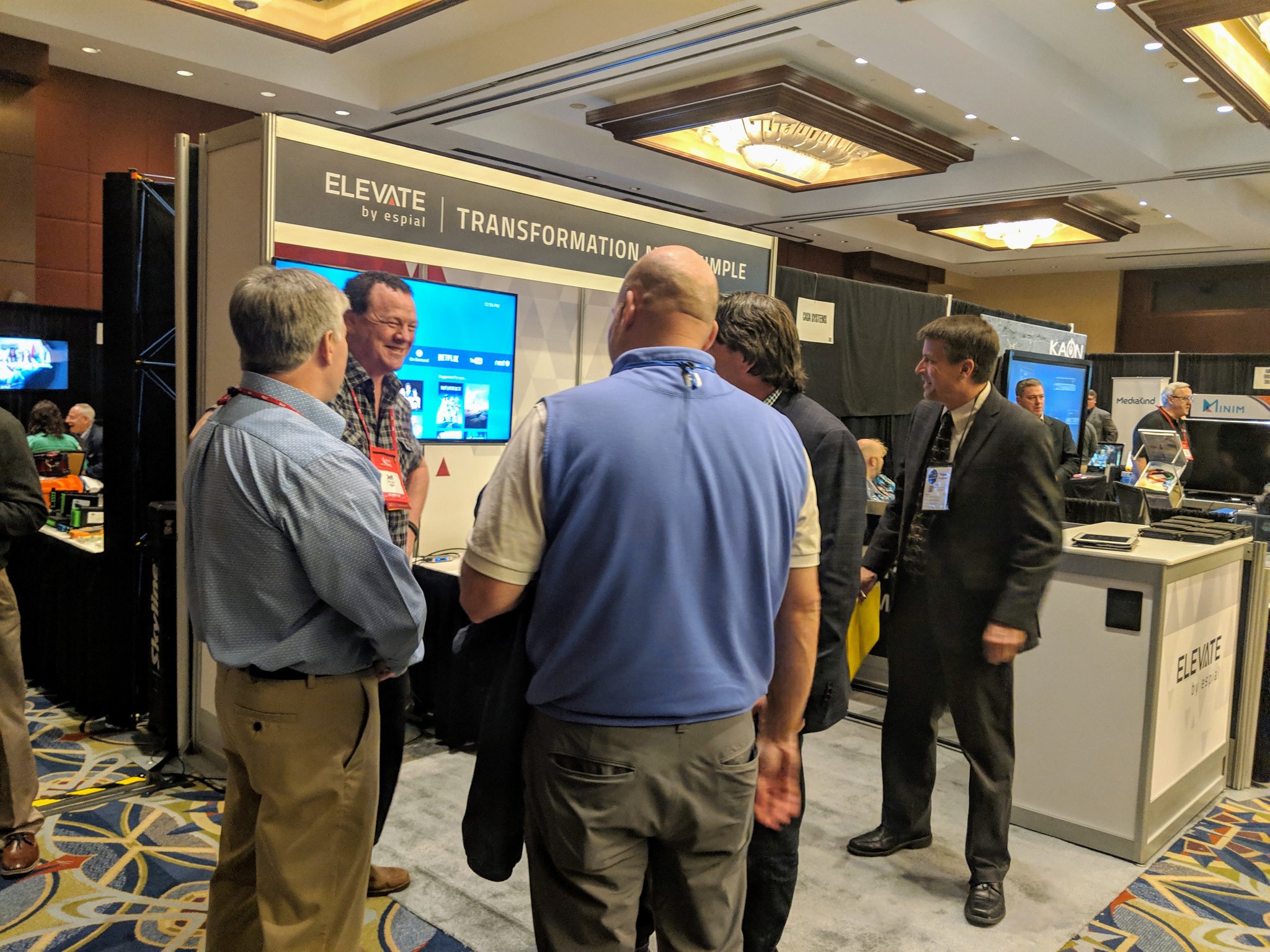 Here are my three takeaways:
1.More isn't always better
Netflix started it; Disney is catching up and now Hollywood is eyeing it. The OTT streaming is gaining momentum and it is all driven by consumers. Direct-to-consumer (DTC) streaming video market is going to bring bigger players with deeper pockets into the game and they are in no mood to collaborate with the competition. Disney is rumored to spend far more than Netflix is prepared to spend on original content. As consumers demand more content and more choices, the spend on creating original content will only increase. The real question remains, is it sustainable? The OTT streamers are training subscribers to see 20 to 25 new original content a year, they spend more money to produce content, spend even more to market the content and use that money to produce more content. The way I see it, is that it is a vicious cycle. I see that re-bundling stands a strong chance and consumers will be interested in forming a choice bundle. We call this the "Paradox of choice". The fragmentation is leaving some money on the table for video operators, they just need to grab it with an open mind and new technology.
2.Tread with caution
Technology and viewing habits are constantly evolving as competition intensifies and drives major shifts in market dynamics. Video operators have started to identify themselves as broadband enterprises. Many video operators are finding better margins in the broadband business. As it is widely known that reliability is the new bandwidth, broadband business would constantly need investment to deliver the bandwidth. A fierce and ongoing price war among the Big Four carriers is only going to compound the pressure on the broadband enterprises and expenditures like laying fiber and headend which can handle higher speed traffic. Craig Moffett, senior research analyst, and founder, Moffett Nathanson Research pointed out that broadband is also deaccelerated as the growth rate of growth for broadband was 4.1% from 2011 to 2016 and the growth rate from 2017 through 2018 is 2.7%. This number is low for penetration-based service.  This is the time to salvage what operators have, convert the capex to opex and tread carefully towards the future.
3.Business sustainability: It takes more than one service/product
Amid the media frenzy around loom and doom of slowly declining video businesses, movements towards OTT services, video operators need to cut through the noise and know the reality. Can we say for sure that video business is dying? No. Can we say that video business is changing? Yes. OTT took over Blockbuster, 5G is coming after broadband in UK and US is not far. This means that change is constant. No one product, one business model will be your ticket to business sustainability. Operators need a cultural shift, they need to change their DNA. They need to get to a point where they are testing and trying new models all the time – trying concepts that may fail. They need an agile culture and agile infrastructure, ways to reduce churn and create new revenue streams. It is possible with the use of a different business model, like moving their video to cloud, they can gain greater control of their network, incur lower costs and become a lean organization which is more adaptable to wither the changing forces.